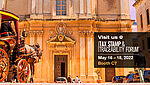 LEONHARD KURZ to Present Innovations at the Tax Stamp & Traceability Forum in Malta
Visual and digital security elements improve tax stamp protection
The fight against counterfeiters and tax fraud is very multifaceted. From May 16 to 18, the eyes of all affected official authorities, investigators, product manufacturers, and suppliers will be drawn to Malta. At this year's Tax Stamp & Traceability Forum, the industry will once again be discussing innovation. LEONHARD KURZ will be there and present their new products ValiGate® and the Visible Digital Seal (VDS).
The optical and digital security elements offer reliable tampering protection on tax stamps and can be combined with the proven TRUSTSEAL® technology, which many authorities already use for their security paper. KURZ's many years of expertise make it possible to bridge this gap between physical and digital protection.
With a unique security pattern, ValiGate® gives each QR code a copy-protected identity. What's more, it can be individually designed and easily checked on the product to be protected using a smartphone. The second innovation, the Visible Digital Seal (VDS), also developed by KURZ, offers even greater protection against manipulation of tax stamps. The data is given a cryptographically encrypted signature. This provides the QR code with reliable protection against tampering, as each identity can only be created once.
KURZ experts will be discussing both innovations in detail at this year's Tax Stamp & Traceability Forum at stand C7. Michael Ritschewald's presentation on May 17 will focus specifically on VDS. The key question the expert will address is: "Does a Visible Digital Seal Solve the Market Requirement for Anti-Copy and Anti-Cloneable Codes?"