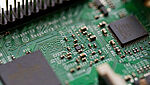 Counterfeiting Is Increasingly a Problem for the Electronics Industry
Counterfeit electronic components can cause considerable damage, as they can often hardly be distinguished from original components at first glance. However, due to the frequently poor quality of their processing, they pose high security risks. Once built-in to a system, they make it more prone to errors in terms of performance, safety, and life cycle.
According to a report by the International Chamber of Commerce (ICC), the value of counterfeits traded worldwide is up to US$1 trillion a year, with the electronics industry accounting for a significant share. One of the main reasons for this is the high demand for inexpensive components.
To prevent serious malfunctions, data loss, and production downtime, secure authentication of original products and seamless monitoring of supply chains are essential.
Image: Chris Ried (Unsplash)