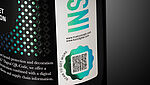 Counterfeit Wine Causes Considerable Damage Worldwide
When counterfeit wine is mentioned, many people think of a problem that only affects the most exquisite and expensive varieties. But trade in counterfeit wines is a billion-dollar business, accounting for up to one fifth of global sales - and most counterfeit wines are actually everyday wines. Among the more than 93 million bottles of counterfeit wine that the U.S. news agency Recorded Future was able to detect between January 2020 and June 2022, fewer than 5,000 bottles were supposedly luxury wines. The most common type of wine fraud, according to Recorded Future, is trying to sell cheaper wine as more expensive varieties on a large scale - with fake, misleading labels.
Counterfeit wines are estimated to be a 65 billion-dollar business. A similar picture emerges for spirits: Studies have recently shown that more than a third of the bottles of Scottish whiskies on the secondary market were counterfeits. However, it is nearly impossible to truly capture the full, global scale, as many cases often go undetected or unreported. What is certain, though, is that wine fraud, in particular, has increased in recent years. This is largely down to two trends: On the one hand, the online trade, which has grown rapidly due to the COVID-19 pandemic and which has increasingly been taking place through gray market channels. And, on the other hand, the growing importance of wine as an investment opportunity. This makes a comprehensive security concept all the more important for the alcohol industry - with effective tamper protection for wines and spirits.