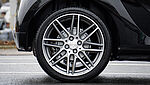 From Cutlery to Hubcaps: Meet the Most Brazen Counterfeits of 2022
The Aktion Plagiarius association has been exposing counterfeit products since 1977 by awarding them the infamous Plagiarius prize. The organization has now announced the 2022 'winners.' A total of three main prizes, a special award, and four other awards were presented.
Once again this year, the award-winning counterfeits clearly show that counterfeiters can set their sights on virtually every product. The award winners included, among others, a reusable cutlery set, a pressure gauge, a hub cap with a fake VW logo – and even a cat feeding station.
Manufacturers and brand owners are well advised to investigate innovative and reliable security solutions in order to reliably protect their products from counterfeiters and thus offer consumers greater security.
Image: Mike B (Pexels)