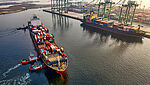 Misuse of Container Shipping for the Transport of Counterfeit Products
Container shipping is the most important transport route for counterfeit products. This is the result of a recent study by the European Union Intellectual Property Office (EUIPO) and the Organisation for Economic Co-operation and Development (OECD).
In total, around 80 percent of all internationally traded goods are transported by sea. With this in mind, it is not surprising that many counterfeit goods are also transported in those containers. According to the study, counterfeit goods make up a relatively small proportion of the total number of confiscations (ten percent). However, when it comes to the value of confiscated counterfeit products, container shipping is the undisputed number one at 56 percent. Fake perfume and cosmetics, in particular, tend to be transported by sea.
The authors of the study also point out that the measures to combat the transport of counterfeits by sea still have room for further improvement. Manufacturers can intervene one step earlier and reliably protect their products against counterfeiting right from the start.
Image: Tom Fisk (Pexels)