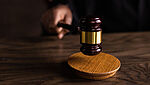 Top Tips by a Trademark Expert: How to Protect Yourself against Brazen Counterfeiters
How can manufacturers effectively protect themselves against counterfeit products and the resulting economic damage? What measures should be taken to keep your own brand exclusive? Trademark expert Stefan Fröhlich from the international commercial law firm Taylor Wessing provides professional answers to these questions in his guest article in W&V, the trade journal of the communications industry..
The expert addresses three aspects that every company should keep in mind: Firstly, he advises that it is essential to acquire appropriate knowledge of what actions constitute an infringement of trademark law in the first place. It is certainly not the case that only a 1:1 copy of an original infringes on trademark rights. The most common case in everyday life is the "risk of confusion," whereby a product is very similar to the original. In addition, the use of icons and lettering reminiscent of publicly known trademarks is also considered a violation of law.
Fröhlich's second piece of advice: Identify trademark infringements at an early stage in order to then be able to take active action against them in a third step. In addition to carrying out own research and raising employee awareness, the expert also advocates professional brand monitoring in his article. If a trademark infringement is discovered, the counterfeiters should be issued with a warning to put them in their place. In the event that no declaration to cease and desist is issued, a court visit will become indispensable.
Do you want to effectively protect your brand and products against counterfeiting in advance? KURZ TRUSTCONCEPT® security experts will be happy to support you with individual solutions such as our security labels. Contact us for more information!
Image: Ekaterina Bolovtsova (Pixabay)