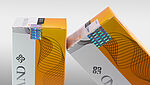 Tried and Tested: TRUSTCONCEPT Security Labels Do Not Affect the Recyclability of Packaging
In Germany, 6.5 million tons of packaging waste have recently been generated per year – and this trend is on the rise. With this in mind, it is all the more important to conserve resources through recyclable product packaging. LEONHARD KURZ contributes to this with environmentally friendly solutions. Studies by Papiertechnische Stiftung (PTS) and INGEDE e.V. have shown that our tested security labels do not affect the recyclability of paper and cardboard packaging.
As part of these studies, sample boxes with two paper labels and two PET labels from TRUSTCONCEPT® were tested. Both label types achieved excellent results. This gives customers the certainty that their packaging is reliably protected against manipulation – and that its recyclability is not impaired.
Read more in our press release.