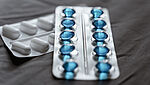 Authorities Seize Counterfeit Medical Products Worth 9 Million Euros
Pharmaceutical counterfeiters suffer major blow: The European Anti-Fraud Office (known as OLAF, from the French Office Européen de Lutte Anti-Fraud), together with the Polish police and the Poznań district prosecutor's office, has seized hundreds of thousands of counterfeits worth around 9 million euros. These included growth hormones and products against erectile dysfunction.
According to the investigations, a group in the Poznań area had smuggled several tons of counterfeit medical products by well-known pharmaceutical manufacturers from Asia to Poland via EU countries since 2018. The counterfeit products were repackaged there and sold online throughout Europe.
Counterfeit pharmaceuticals and medicines pose considerable health risks. According to the World Health Organization (WHO), up to one million people die each year after consuming them. What's more, counterfeit products cause billions of dollars of economic damage. To prevent this, products must be designed to be as tamper-proof as possible.
Image: MART PRODUCTION (Pexels)