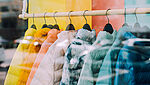 'Ultrafast Fashion' Provider Shein Sued Multiple Times for Design Theft
Chinese online platforms like Temu and Shein are currently on the rise, conquering more and more international markets with particularly affordable offerings. Shein focuses on the so-called 'Ultrafast Fashion' segment: The platform offers up to 7,000 new designs and products every day, some priced as low as two euros per garment.
Many of these extremely cheap products are alleged to be counterfeits, as recent developments reveal. In recent months, more and more designers, as well as major chains like H&M, have spoken out, accusing the Chinese giant of design theft. Shein is said to have mass-produced counterfeit copies of designer pieces using artificial intelligence (AI) and posted them online - the provider now has to justify itself in several court cases. The cheap imitations are sometimes characterized by their poor quality. To protect both consumers and their own brand from blatant plagiarism, manufacturers are recommended to rely on reliable security features.
Image: The Nix Company (Unsplash)