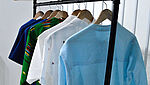 Counterfeit Clothing and Textiles Worth Millions Seized
Whether it's T-shirts, jeans, sweaters, or shoes, branded clothing is a popular target for counterfeiters. Customs authorities repeatedly report seizures worth millions of euros – most recently in Dresden, for example. The main customs office confiscated counterfeits from twelve well-known manufacturers, including 13,300 T-shirts, 3,900 tracksuits, and 2,000 training pants. According to authorities, the value of the counterfeit products would exceed 3.2 million euros.
Often, these inferior goods pose risks to consumers' health. The American Apparel & Footwear Association (AAFA), for instance, reports that over a third of counterfeit products do not meet safety standards. According to the organization, many counterfeits contain substances such as arsenic, cadmium, lead, and others that have been proven to cause health issues. By reliably protecting their own brands from counterfeiting, manufacturers can not only prevent damage to their reputation but also make a valuable contribution to consumer protection.
Image: Dusabimana Aimable (Unsplash)