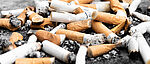 Authorities Uncover Factory Producing Counterfeit Cigarettes in France
After receiving tips from Europol, the French police unit Gendarmerie Nationale carried out its first ever raid on a factory producing industrial-style counterfeit tobacco products. More than 100 tons of illegal products were seized, including 55 tons of cigarettes in cartons. According to the authorities, the latter were produced in a separate area of the underground facility. The packaging was labelled as well-known brands sold on the legal market. The estimated value of the confiscated products is around 17 million euro.
Such finds underline time and time again how important it is to reliably protect one's own products from counterfeits, which not only damage brand image but also lead to loss of sales. At Interpack 2023 from May 4 to 10 in Düsseldorf, LEONHARD KURZ will be demonstrating at Stand C36 in Hall 8A how brand owners can reliably protect themselves against brazen product piracy.
Image: Pawel Czerwinski (Unsplash)