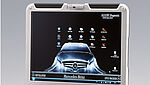 Plagiarius 2023: Award for Unscrupulous Counterfeit Products
Counterfeit products are becoming increasingly sophisticated and can often hardly be distinguished from the original at first glance - however, they are usually of inferior quality. As a result, they pose a particular hazard to consumers and also harm the image of brand owners.
The association 'Aktion Plagiarius' has set itself the goal of denouncing three product pirates and raising awareness of the problem. The organization has recently awarded its its infamous Plagiarius prize for the 26th time in a row. Once again this year, the diversity of the award-winning counterfeits clearly shows how widespread fakes are - the offending items range from drinking glasses and a modular wall shelf to a vehicle diagnostic system. The last example, in particular, illustrates the serious safety risks associated with counterfeits: Fake diagnostic systems often use outdated software and are particularly prone to errors.
Manufacturers and brand owners in all industries can protect their products by providing them with reliable security features.
Image: Aktion Plagiarius e.V.