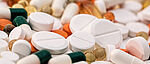 Pharmaceuticals and Illegal Substances Worth over 40 Million Euros Seized
As part of the third Operation Shield, Europol, in cooperation with police and customs authorities from 28 countries, confiscated around 10.5 million units of counterfeit medicines and other illegal substances with a total value of around 40 million euros. Shield is a global effort to combat trafficking in counterfeit and misused medicines and illegal substances.
Shield III comprised 195 investigations and led to 349 arrests. In the course of the operation, several cases of large-scale drug trafficking were uncovered - according to Europol this confirms that this trade can be at least as lucrative as trafficking in narcotics. A total of ten underground laboratories producing illegal substances were closed down. According to the authorities, they pose a particular risk, since work is usually carried out under questionable hygienic conditions and inadequate safety measures, which in turn leads to significant health risks for the end consumer. Counterfeit medicines often don't produce the desired effect or even can cause additional discomfort. In order to avoid this, it is particularly important to equip medicinal products with reliable security features and to enable their unambiguous labeling and traceability.
Image: Pixabay (Pexels)