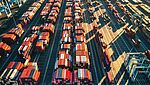 31 Million Counterfeits Withdrawn from Circulation: Customs Takes Stock
Counterfeit products cause considerable economic damage, cost jobs, and often endanger the health of consumers. The extent of product piracy in Germany is illustrated by figures recently published by German Customs.
According to the authority, since 2020, some 66,000 shipments have been checked as part of controls on the international movement of goods due to suspected counterfeiting. A total of 31 million counterfeits were confiscated, with a value of almost one billion euros - including brand-name clothing, shoes, and accessories, plus also computer components, machines, and tools. According to Customs, the majority of counterfeit products came from China. Turkey and Hong Kong are also often listed as manufacturing and shipping countries.
These figures - just like the variety of the counterfeits - clearly emphasize one thing: Manufacturers and brand owners need to take the protection of their own products seriously! Investing in reliable brand protection pays off for companies in all industries.
Image: Venti Views