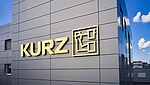 Joining Forces to Drive Counterfeiting Protection: KURZ Acquires Scribos from Tesa
With a total value of EUR 238.87 million, German customs reported a new record for the confiscation of counterfeits in 2020.1 In order to continue to reliably protect companies and products, LEONHARD KURZ is expanding its security portfolio: As of September 1, 2021, the tesa subsidiary scribos will become part of the KURZ Group.
Together with scribos – a renowned and market-leading digital brand protection platform – the KURZ Group is setting a new course for product and brand protection. To achieve this, we are combining our many years of expertise in thin-film technology with the innovative spirit of scribos as an experienced security expert, to further advance our product development in security solutions. These synergies are a promising basis for innovative, tailor-made security solutions and a global, professional service.
One of LEONHARD KURZ's recipes for success is its broad product portfolio with room for industry-specific individuality. In this way, even after the takeover of scribos, the organization, including management and employees, as well as the sites, will retain their existing form. "Over 20 years, scribos has developed into one of the leading solution providers for digital transformation at product level and has redefined brand protection with markings and digitalization solutions. We want to maintain this drive to success by strengthening the basis of our success story," explains KURZ CEO Walter Kurz and adds: "When it comes to security, trust is known to be the strongest currency. Like scribos, we have earned this trust from our customers over the years." This is why customers will experience the close partnership as a profitable bundling of expertise in safety – with top products, solutions, and service. And, if you look closely, you will notice a slight adjustment to some product names owing to the expansion of the KURZ family.
[1] https://www.zoll.de/SharedDocs/Broschueren/DE/Die-Zollverwaltung/jahresstatistik_2020.html?nn=287024