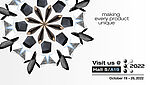 K 2022: KURZ and SCRIBOS Demonstrate Digital Product Passport Added Value
LEONHARD KURZ is making next-generation customer interaction tangible at K 2022 in Düsseldorf. The two subsidiaries, SCRIBOS and KURZ Digital Solutions, will present an innovative Wallbox at the leading trade fair to demonstrate the advantages of the Digital Product Passport (DPP) in combination with the ValiGate® brand protection solution. Visitors can use their smartphone to scan a QR code on the device and thus receive comprehensive information about the e-pump automotive charging station. This includes facts about sustainability, the materials used, the manufacturing process, the cooperation partners involved, and much more.
The Digital Product Passport summarizes data from all life cycle phases of the respective product and provides all stakeholders - from retailers to consumers and repair companies - with the details relevant to them. The DPP also enables manufacturers to fulfill their environmental responsibilities and provide detailed proof of the sustainability of their products in accordance with the upcoming EU Directive.
In addition, the DPP can be enriched with various bonus features such as digital marketing content or comprehensive brand protection. With ValiGate®, SCRIBOS enables reliable authentication integrated into the DPP. This gives each QR code a unique, copy-protected identity, which can be easily verified in seconds with a smartphone. Visual product protection has also been thought of. The proprietary TRUSTSEAL® technology includes unique security measures that simultaneously increase the appeal of the product.
Would you like to find out more about the Digital Product Passport, ValiGate®, or TRUSTSEAL®? Visit us at K 2022 in Düsseldorf - Stand E09 in Hall 5!