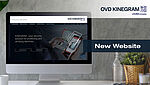 Identity Documents need a DOVID – Find out why on the new website of OVD Kinegram!
A major website relaunch project has just been completed by OVD Kinegram, member of the KURZ Group and the world's primary provider of physical and digital security solutions.
OVD Kinegram works with governments and corporate partners around the world to protect the identities of citizens. The company's proprietary KINEGRAM® technology is the global reference in the protection of government issue documents. OVD Kinegram also provides innovative digital products for identity verification and combining digital and physical document solutions.
Visit the renewed website to learn all about diffractive optically variable image devices such as the KINEGRAM and why our technology is leading the way in securing documents. Find out more about the large variety of security solutions for governments, system integrators or IT solution providers, and discover modular concepts for protecting governmental revenues. Explore the digital solutions for scanning and verifying ID documents, machine-based document authentication or automated data capturing.
Would you like to know more? Discover OVD Kinegram's new website now or contact us for any questions on security solutions for protecting identities.