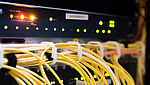 Florida: Billion-Dollar Trade in Counterfeit IT Hardware
A Florida man faces charges of dealing in counterfeit IT hardware worth over U.S. $1 billion. The fraudster had shipped substandard, in some cases faulty devices to hospitals, schools, government agencies, and the military, among others, causing tens of thousands of U.S. dollars in damages.
The supposed Cisco network devices came from illegal suppliers in Asia and were labeled, documented, and packaged as expensive original goods. Between 2014 and 2022, the counterfeits were sold under the name 'Pro Networks' by several companies and online stores - for roughly 60 to 80 percent less than the original products. Pirated Cisco software was able to bypass the company's automatic license and hardware authentication checks, allowing the scam to initially go undetected. However, the network devices often only worked for a short period of time, then crashed or would no longer turn on, leading to expensive repairs.
This case shows how alarmingly easy it is to fall for counterfeiters and inferior goods, even in the B2B segment. So, protect yourself and your electronic products with comprehensive, reliable security features.
Image: jarmoluk (Pixabay)